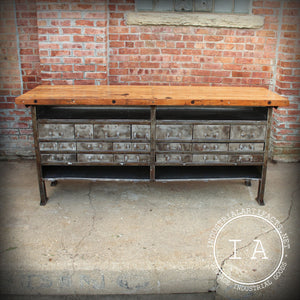 This vintage industrial work bench has been reborn thanks to our handy staff. We refinished the original butcher block top boiled linseed oil and lacquer. We also stripped the cabinet of its original paint and rust and gave it a clear lacquer top coat. This stylish cabinet gracefully shows its age under a new coat of finish - this workhorse is ready to be put back to use!
The tabletop measures 78" L x 25 1/4" D and stands 35 1/2" T. The open area below the tabletop measures 71 1/2" L x 17 1/2" D x 6" T, with openings on either side measuring 34 1/2" x 4 1/4". The open area below the drawers measures the same but is only 4 1/2" tall. There are ten drawers each measuring 17" x 11 1/8" x 2 1/2" T, five drawers measuring 17" x 11 1/8" x 4 1/2", two drawers measuring 17" x 5 1/2" x 4 1/2", and four drawers measuring 17" x 5 1/2" x 2 1/2". The legs supporting the work bench are 8" tall. 
THIS IS A VERY LARGE ITEM THAT WILL REQUIRE FREIGHT SHIPMENT TO A TERMINAL NEARBY TO THE BUYER. FREE LOCAL PICK UP IS ALSO AVAILABLE. PLEASE NOTE THAT THE FREIGHT ESTIMATE PROVIDED IS ONLY AN ESTIMATE AND SUBJECT TO CHANGE BASED ON THE BUYER'S LOCATION. PLEASE CONTACT OUR STAFF AT 815.501.0051 FOR AN ACCURATE FREIGHT QUOTE.
*Bulbs are not included unless specified
I also have a wonderful selection of other industrial artifacts, please feel free to browse!
Please give me a call with any questions you may have 815-299-7625
Happy bidding
SHIPPING PRICES REFLECT THE FACT THAT ALL OF OUR ITEMS ARE INSURED FOR THEIR VALUE. SHIPPING COSTS ARE AN ESTIMATED REPRESENTATION; ACTUAL COSTS MAY VARY BASED ON ITEM AND DESTINATION.
INTERNATIONAL CUSTOMERS: Due to the high value of some of our items, many items shipped to internationally cannot always be insured for their full value. In these cases, we will insure them to the full extent available, but will not be responsible for additional damages above the available insured amount. International items are shipped via USPS or UPS; please become familiar with the insurance policy associated with your country. BUYERS ARE RESPONSIBLE FOR ANY DUTIES AND TAXES THAT MAY APPLY.
REFUNDS: A 10% restocking fee will be applied to refunded purchases wherein the buyer no longer wishes to complete the transaction.
FREIGHT CHARGES are an estimate to a commercial address or to the nearest freight terminal for pickup. Additional charges may apply for residential delivery. Please provide us with a zip code and form of delivery for an accurate quote.
IR-UG-AWC-EeS