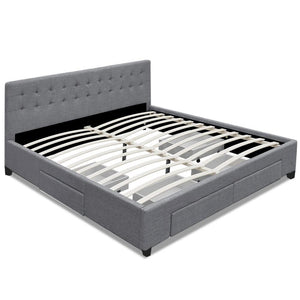 Turn your bedroom into a luxurious pad with our Avio Bed Frame. It's a stylish bed frame and so much more.
Constructed with a sturdy steel frame that's reinforced with metal bars and heavy-duty connectors, the Avio Bed Frame is also padded with high density foam and upholstered in breathable non-woven premium linen fabric for a soft and comfortable touch. The Bed Frame features a wooden arched slat base that helps to distribute weight evenly across the frame and a centre support strut to provide added stability to the overall structure.
Of particular interest is the tufted headboard that really gives the Bed Frame a designer-class status. Simply oozing with elegance and sophistication in every detail. What's more, underneath the Bed Frame, you'll find four spacious drawers to store all your seasonal beddings and linen and a host of other personal essentials. No more clutter and loads of useable storage right under you. Better still, the drawers are set on wheels for easy access sliding in and out.
With its dark grey hues, the Avio Bed Frame exhibits a neutral tone that makes it very adaptable to numerous décor themes.
Features
Premium linen fabric
Padded with high density foam
Tufted headboard
Breathable non-woven fabric
Sturdy steel frame
Strong centre support strut
Wooden arched slat base
Four large storage drawers with wheels
Heavy-duty metal connectors
Reinforced construction with metal bars
Floor protectors
Specifications
Frame: Wooden and metal
Material: Polyester
Filling: High density foam
Slats: Wooden
Fits standard King sized mattress: 203 x 183cm
King bed frame dimension: 216 x 193 x 95cm
King Headboard: 193 x 7.5 x 95cm
Colour: Charcoal
Package Content
1 x Avio Bed Frame
4 x Storage Drawers With Wheels
1 x Assembly Manual