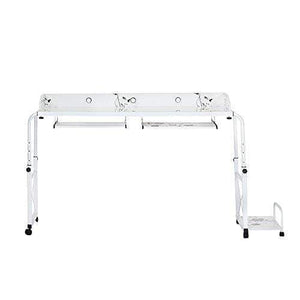 Brand: furniture-uk-shop
Color: White
Features:
100% Brand New Adjustable Computer Desk Over Bed With a Bridge Structure.
Manufactured from top quality steal frame and a pressed wood board.
Black / White colour matches the computer desk with its surroundings.
Maximum capacity is 150 kg without stretching the desk.
Suits all sizes of beds: Twin size, Double size, Queen size and King size.
Publisher: furniture-uk-shop
Details: Specifications:

Adjustable Length: 164 - 234 cm
Adjustable Height: 55 - 85 cm
Item Weight: 21 kg
The over bed computer desk is equipped with a castor system which enables the desk to move smoothly. A braking system allows you to fix the desk in a position by simply putting down buttons on the wheels.
The extendable structure enables the desk to be stretched to different height and width and the desk still can remain sturdy.
The desk has a keyboard shelf and a storage drawer under its desk top.
The multipurpose piece of furniture provides a broad surface to be used by two people who can have meals, play games, surf the internet, enjoy a full table of snacks and Netflix together.
The over bed computer desk is also perfect for patients, the disabled and workaholics.
It is appliable at home or in office.
EAN: 6245652128182
Package Dimensions: 39.4 x 20.9 x 3.9 inches