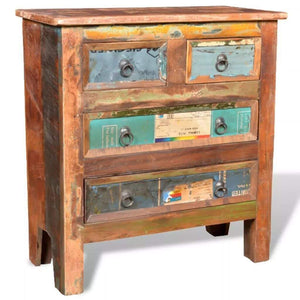 Brand: Festnight
Color: Brown
Features:
【ANTIQUE STYLE SIDEBOARD】This reclaimed wood storage cabinet with 4 drawers has a retro stylish design and will become the focal point of your bedroom, living area.The nail holes or clear-faced grains bring their history with them and invite another generation to permeate them with their own.
【MULTIFUNCTIONAL CABINET】This storage cabinet, which can also be used a lowboard,buffet sideboard,telephone stand,nightstand,console table and more.The smoothly top provides ample space to display decorative objects, vase,photo frames, or even potted plants.
【4 DRAWERS AMPLE STORAGE SPACE】Our sideboard with smoothly running 4 storage drawers,which will be perfect for storing multimedia appliances,DVD Player, gaming consoles,magazines or small items you'd like to keep in.Great to helps you maintain your items in great order.
【STURDY AND DURABLE】Made of high-quality solid reclaimed wood,this side storage cabinet is very sturdy and durable.Keeping this piece of furniture at home will show your concept of resource conservation, environment protection and sustainable development.
【FULLY HANDMADE SIDEBOARD】Pure handmade craftsmanship adds the vintage spectacular style to the coffee table and feasts you with exoticism.Every process of recombining, polishing, painting and waxing is elaborately prepared.
Publisher: Festnight
Details: Description:
This cabinet with 4 drawers offers you storage space and helps you maintain your items in great order. 
You can also put a desk lamp or some decorations on the sturdy top surface. 
This storage cabinet is made from reclaimed wood, which means that every piece of furniture is unique and slightly different from each other. 
The furniture made from reclaimed wood has characteristics of different wood, like teakwood, sheesham wood, acacia, mango wood, saal wood, etc. 
Reclaimed wood is solid, stable, durable, and beautiful. 
The nail holes or clear-faced grains bring their history with them and invite another generation to permeate them with their own. 
Keeping this piece of furniture at home will show your concept of resource conservation, environment protection and sustainable development. 
In addition, pure handmade craftsmanship adds a vintage spectacular style to the cabinet and feasts you with exoticism. 
Every process of recombining, polishing, painting and waxing is elaborately prepared. 
The antique cabinet will surely be a perfect addition to your home! 
Important note: Colors vary from piece to piece, making each of our cabinets unique; the delivery is random.

Specification:
Pure handmade
Size: 26" x 12" x 28" (L x W x H)
Material: Reclaimed solid wood
Multi-color wood with iron knobs
Polished, partly painted & waxed
UPC: 799410762874
EAN: 799410762874