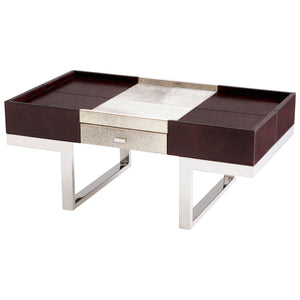 Imagine the sophisticated touch you'll add to your home with this captivating Curtis Contemporary Rectangular Coffee Table. The tray top features brown cowhide leather with a center insert of silver hair-on cowhide that features a storage drawer. The base and legs are stainless steel.
24"W x 17.5"H x 42.75"D
Weight: 62 pounds
Free shipping
In stock. Ready to ship in 2 - 8 days. We ship anywhere in the U.S. except AK & HI.
$ReadMore:
Manufacturer: Cyan Design
Finish/frame: Stainless Steel and Brown