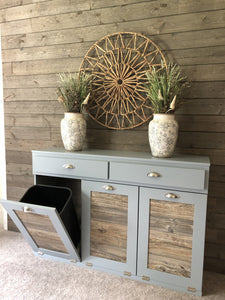 Does the word elegant come to mind when you think of your kitchen trash? If you owned this tilt out trash/recycling cabinet, it just might.
Please read our FAQ page prior to purchasing. 
If you are interested in adding a custom color match, cedar top or a back for the bin, use this link:
Here is what you need to know to get you started:
This is a triple bin. It is painted in a soft SW Steely Gray, washable paint.

DIMENSIONS: We have several different bin dimensions in our shop and do not offer dimension changes.
Approx. dimensions of the bin in this listing are as follows:
52.3/4" wide
12.5" depth
35.5" tall

Please measure your space before ordering. Some of our bins are counter height and others are not but all sizes are listed. 
No searching for the right can size. Rubber trash can(s) are included. They are 41 quarts and easily hold a 13-gallon kitchen trash bag
You are ordering a custom, handmade bin. The bin is an excellent representation of what your bin will look like.
Our bins are handmade from start to finish. Expect a little variation as each piece is custom. We truly build each bin with the utmost care. Our bins are sturdy and solid, painted throughout, and beautiful to look at. Because it is custom made, we need a little time to make it beautiful for you. Please expect a 5 week turn around time.
This bin arrives fully assembled and the shipping is free!