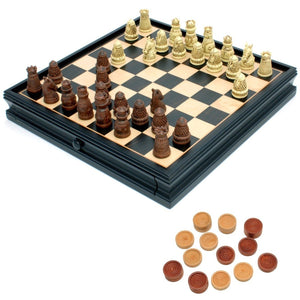 Medieval style chess pieces are brown and ivory polystone

Black stained wooden board with decorative inlay border includes storage drawer

Board Measures 15.75 x 15.25 x 2.75 in. with 1.56 in. squares

32 chessmen - King Measures 2.5 in. with a 1.06 in. diameter base

24 checker pieces - Wooden 1.1 in. diameter
Crowns, knights, castles, and peasants, these are all elements of the Medieval times. Get a taste of this noble life with our beautifully made Medieval chess pieces on a gorgeous wooden board with storage drawer! The intricately crafted chessmen will captivate the imagination of players young and old alike. You will want to display this gorgeous chess set for all to admire! Chess is a game that brings enjoyment to all its players and is great to pass on from generation to generation!