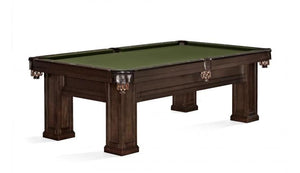 The straight lines, simple design and heavy proportion of the Oakland II table are trademark characteristics of the Arts & Crafts style of furniture originally popular during the 1890's to 1910's. This distinct table features solid wood rails, leather pockets and two storage drawers to stow cues and accessories.
Features
High Performance™ Nut Plate Construction
Brunswick Cushion Rubber
Brunswick Certified Premium Slate
Diamond-Shaped White Pearlized Rail Sights
Specifications
Size: 8'
Dimensions (L x W): 98.5" x 54.5"
Weight: 794 lbs*
Pockets: Drop Pocket
Legs: Unique
Slate: 1" Framed
Cloth Color: 14 options
Finish Options: Chestnut, Espresso
Storage Drawers: 

One is ready to hold up to 10 full-size cues and the other drawer will hold all of your accessories including pocket balls, table brush, 8-ball and 9-ball racks, bridge and shorty cue.
*Shipping Weight
Lifetime Warranty
Brunswick Billiards warrants that its billiards tables will be free from defects in materials and workmanship for as long as the table is owned by the original owner.
Your warranty automatically becomes effective upon purchase.
CENTENNIAL® CLOTH
100% luxurious Merino wool weave billiard cloth available in 14 colors to reflect your room's individual style.
Centennial cloth does not pill or shed, maintaining a clean, sleek playing surface.
Teflon® fabric protector* is incorporated into the cloth fibers, safeguarding the cloth and table from occasional spills and protecting your investment without affecting play.
Heavier Centennial cloth requires less frequent recovering of the table.
* Teflon® is a registered trademark of Chemours used under license by Brunswick Billiards.
TRADITIONAL CLOTH
Woolen billiard cloth available in 14 colors to reflect your room's individual style.
A 2,500 Ib. cylinder steams and presses the cloth to give it a harder finish ensuring little or no pilling and faster play.
All of the wool is bleached before dying to provide a cleaner and more vibrant colored product.
Exclusive shearing process provides the smoothest playing surface possible
BASE FRAME CONSTRUCTION
Exterior Style
Made from superior engineered wood with selected veneered hardwoods
Assembled using high-torque bolted construction, and state-of-the-art heavy gauge steel fastening systems for rock solid performance
Why Buy Brunswick?
THE GAME CHANGERS 
Brunswick built a legacy from building the best. If you look inside a Brunswick table, this becomes clear as you see innovation after innovation. Every extra step we take in the building process ensures we achieve superior accuracy and consistency in our tables. We are proud to stand behind every product that carries the Brunswick name, and guarantee the quality, materials and workmanship of our products.