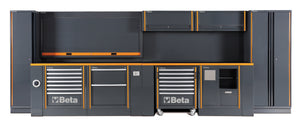 Comprehensive Workshop Equipment Combination
Included with Cabinet Combination
Single-door tool cabinet (C55 A1)
Two-door tool cabinet (C55 A2)
Workbench (C55 B)
Workbench with sockets (C55B-PRO)
Mobile roller cab with 7 drawers (C55 C7)
Fixed module with 2 storage drawers (C55 M2)
Fixed module with 7 drawers (C55 M7)
Tool panel with suspended cabinets (C55 2PM)
Details
Modularity
Modular garage fitting your spaces and requirements.
Organization
A sensibly organized workstation, synonymous with optimized work.
Quality
Beta's best Italian-made quality to furnish your garage.
Design
Refined, captivating finishes for a tidy, attractive workstation.
Cabinets Fitted with 3 interior, vertically adjustable shelves.
Compressed air outlet with built-in roller Ø 8mm. Length: 10m.
Aluminum drawer front complete with quick release system throughout length of drawer.
Aluminum shutter with lock for protecting tools.
Schuko socket 16+10A amd EU Plug 16+10A.
Drawers can accommodate thermoformed tool trays available.
Mobile roller cab w/ 2 fixed and 2 steering wheels, making it easy to pull it out.
Perforated panels for holding tools.
Suspended cabinets fitted with gas springs making it easier to open/close doors.
Framework.
Each module is fitted with an independent lock.
Adjustable supporting feet suitable for uneven surfaces.
Single-door tool cabinet (C55 A1)
Two-door tool cabinet (C55 A2)
Workbench (C55 B)
Workbench with sockets (C55B-PRO)
Mobile roller cab with 7 drawers (C55 C7)
Fixed module with 2 storage drawers (C55 M2)
Fixed module with 7 drawers (C55 M7)
Tool panel with suspended cabinets (C55 2PM)