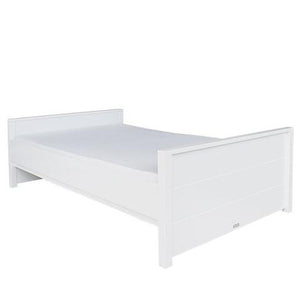 A matte white finish in combination with timeless no-nonsense design provides a contemporary look for our Bobby bed in twin size. Bobby twin size has a standard European mattress size of 120x200 cm.
Outside dimensions: 63 (H) x 126 (W) x 211 (L) cm.
On request Bobby Twinsize bed is also available with a higher head board of 93 cm (foot board will stay 63 (H).
Price does include a wooden slatted base, but does not include the mattress. The mattress is separate available. 
For Bobby twin bed there is an option to add a unit with 2 storage drawers (storage drawers Bobby), or a single size pull out bed (trundle Bobby). The drawers or pull out bed are separate available and not included in the price. 
Dutch design, made in Europa out of a combination of Beech wood and MDF.
Maximum weight for this bed is 200 kg.
All dimensions are approximate.