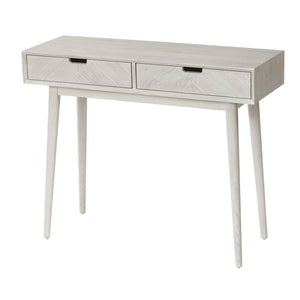 // F U R N I S H I N G S - C O L L E C T I O N \\
Individually hand-made Bangalow Console for home decorating. Compact in size with two storage drawers. Some assembly required.
Please note: Being a hand-made artisan item, small imperfections are characteristic to this craft and not considered as faults. Images are representative online of the actual item including the overall colour and grain. No two are ever alike.
Size: 100(w) x 35(d) x 80(h)cm (Approx)
Medium: Ash Veneer/Rubber Wood. 
Finish: White Wash.