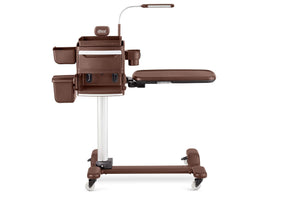 Brand: atHand
Color: Brown Left Hand Orientation
Features:
VERSATILE, ALL-IN-ONE SOLUTION. Looking for something to replace all hacks and set ups that just don't get the job done? Look no further! atHand addresses the needs of modern users.
EASY-REACH LIGHTS. Includes two touch on/off LED lights, each with 3 brightness settings: one for working/reading, one for a nightlight.
KEEP PHONES & DEVICES CHARGED. Avoid extension cords or straining to reach wall outlets with 4 integrated USB and 4 power outlets right in the table.
CONVENIENT STORAGE. No more cluttered & messy tray table. Keep all your must-haves close by and organized in the storage drawer and shelf.
STRENGTH AND STABILITY. No need to worry about a sagging, wobbly table. Designed to hold up to 100 pounds, the tray table is sturdy and reliable.
Publisher: Integrant
Details: Keep your loved ones safe, comfortable and independent with the atHand Overbed Table System because it keeps everything in reach of the bedside or chair.
It's perfect for when you're aging in place, in a wheelchair, recovering after surgery, on bed rest due to pregnancy, receiving home hemodialysis, or experiencing limited mobility for any reason.
This patented, adjustable table with power and wheels optimizes your space, empowering you or a caregiver to adjust the setup to your needs.
Imagine working or relaxing with a convenient touch on/off LED reading light and integrated electrical and USB outlets, plus plenty of storage space.
Rounded corners, a sleek aluminum spine, and rich colors blend with modern decor.
By bringing storage and power to the bedside, you & your loved ones stay comfortable, safe, and independent. Keep everything in reach and reduce the risk of falls.
Product Specifications:
Bundle includes accessory kit: cupholder, trash bin, basket and open bin
Tray table weight capacity 100 pounds
Tray table surface dimensions 23″ long x 13″ wide
Tray table height adjustment 29″ to 44″ from the floor
Allow 5.5" clearance from floor or chair
Tray table rotation 45° towards user
Power cord 8 ft
4 USB ports
4 Electrical outlets
Electrical components UL or CSA safety agency listed
Shipping weight 80 pounds
Shipping carton dimensions 48″ L x 16″ W x 25″ H
Product warranty Three years, limited. Warranty is non-transferable and only valid with purchases made directly from the manufacturer, Integrant LLC. Warranty is void if purchased from any other seller.
Tray table orientation RIGHT or LEFT
Return policy: Product may be returned for a refund, less return shipping costs, if returned within 30 days and in the original packaging.
All copy and images are copyrighted and for the exclusive use of Integrant LLC.
UPC: 853654007112
EAN: 853654007112
Package Dimensions: 47.2 x 24.8 x 15.7 inches