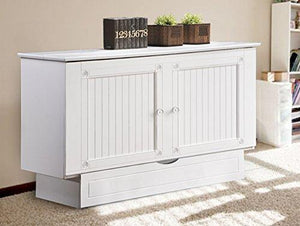 Brand: Arason Enterprises
Color: white
Features:
Low cost alternative to Murphy Bed
Usuable top surface is only 39 inches high
Free standing cabinet, no need to bolt to floor or walls
Roomy storage drawer for pillows or blankets
Comfortable memory foam mattress
Publisher: Arason Enterprises
Details:
Distressed white is sanded through to dark grey tones giving the cabinet depth and interest. Pewter hardware and bead board faux doors give this a charming look that's perfect for beach houses or traditional country decors. Perfect solution for small space or family with a growing guest list. The Creden-ZzZ Style Cabinet bed comes with a tri-fold, memory foam mattress.  This is a 6 - inch mattress with 4 inches of base foam and two inches of memory foam. Three mattress segments are sewn together and do not separate when laid flat. Mattress accordion folds to fit into the cabinet.
Features:
Low cost alternative to Murphy Bed
Usuable top surface is only 39 inches high
Free standing cabinet, no need to bolt to floor or walls
Roomy storage drawer for pillows or blankets
Comfortable memory foam mattress
Supports 500 pounds
Easy to open and close
Specialty hinges allows top to open without removing items from top
Only 39 inches high
Plenty of head room
Specifications:
Overall Product Dimensions: 43" H x 64" W x 24" D
Product Weight: 240 lbs
UPC: 616316322677
EAN: 0616316322677
Package Dimensions: 64.0 x 39.0 x 24.0 inches