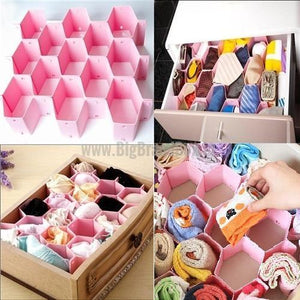 8-Piece Honeycomb Drawer Clapboard Closet Divider Cabinet Cellular Partitions Underwear Organizer Cosmetic
 Storage Box
Product Decription
Honeycomb drawer organizer storage dividers are excellent for keeping your socks, underwear, gloves, undergarments, tights, stockings, ties, t-shirts, arts & crafts etc all in order.

Can be assembled in seconds and used for any sized drawers. Can be easily cut for perfect customized fit.

Contains small holes on sides for breath-ability for whatever items you decide to organize.

The organiser consists of eight individual strips, which can be customized and assembled as per your requirement. You can cut the strips to shorten the length if required. Hence it can be used in smaller sized drawers.