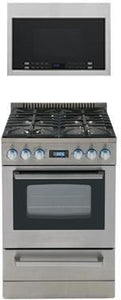 Glass Shelves
Solid, wipe-able surface maximizes food storage area and keeps items in place.
See-Thru Glass Oven Door
Easy view of the inside, so you can monitor without risk of injury or heat loss.
LED Lighting
Illuminates the inside of the refrigerator and freezer giving for better visibility. Unlike incandescent bulbs, LED lights area more energy efficient.
Roll-Out Bottom Storage Drawer
Bottom drawer can be used for storage.
Sensor Cooking
A built-in sensor that automatically calculates and adjusts cooking times and power levels for favorite foods.
1000 Watt Cooking
A high powered 1000 watt microwave. It allows for fast and thorough cooking.
Power Levels
10 adjustable power levels for more precise cooking.
Door Storage
Store tall bottles and condiments right on the door for convenient access.
LED Cooktop Light
LED lights are significantly brighter than halogen or incandescent bulbs and save more energy. LED lights evenly distribute a soft, bright light across your cooktop
Fulfilled by Appliances Connection via Two Tap.