What is Universal Bath Design?
Universal Bath Design makes bathrooms accessible to everyone. Your size, age, or abilities shouldnt impinge on how you use this space. This type of design means the room is adapted to everyones needs using simple, logical design principles that make the space comfortable and easy for all users.
ACCESS
The most important step toward universal bathroom design is to make sure your home has a full bathroom on the first floor. This could involve replacing your powder room with a full bathroom or adding a second bathroom on the main level of your home. Having no stairs to negotiate is handy for everyone, but vital to anyone with limited mobility. Make sure your door frame is at least 36 wide to allow wheelchairs and that the door slides or swings out, giving room to maneuver inside the bathroom. You could knock a wall to enlarge a bathroom, as a wheelchair user needs at least 5ft to turn around, but a mom also appreciates extra space when bathing small kids. A bigger room offers more options for your design, both aesthetically and practically.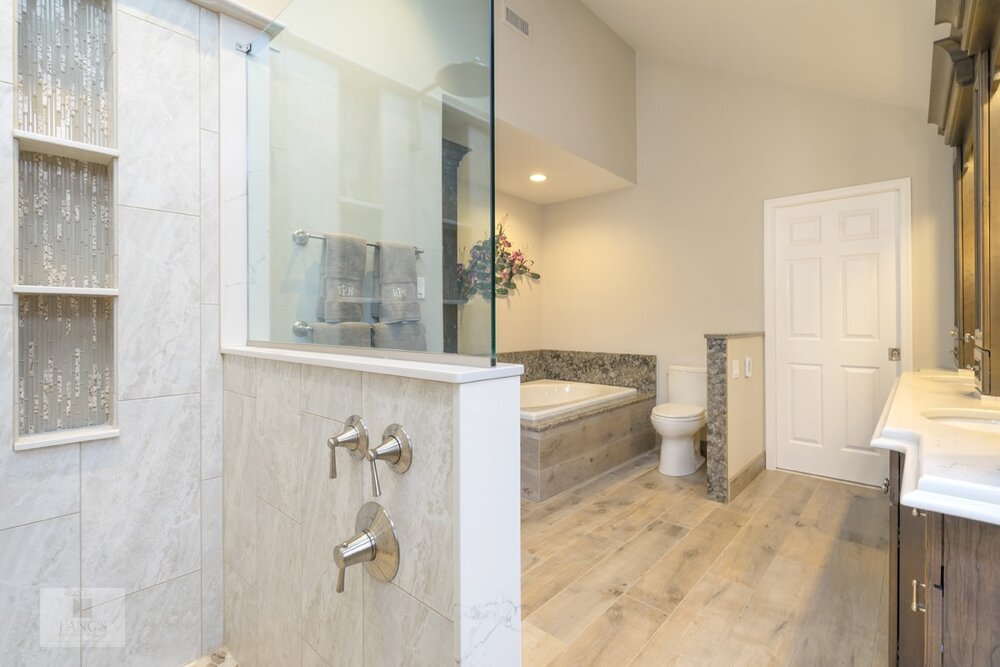 LIGHTING
Strong lighting is important in a bathroom designed for everyone. A layered lighting scheme means you can have low lighting when relaxing in the tub but bright lights over your mirror when applying makeup. The entry area and shower also need good lighting to avoid accidents. Plenty of natural light is beneficial from both a health and design perspective and it casts less shadows than artificial lighting. Place light switches at a low height for children and wheelchair users or try sensor lights that switch on and off automatically.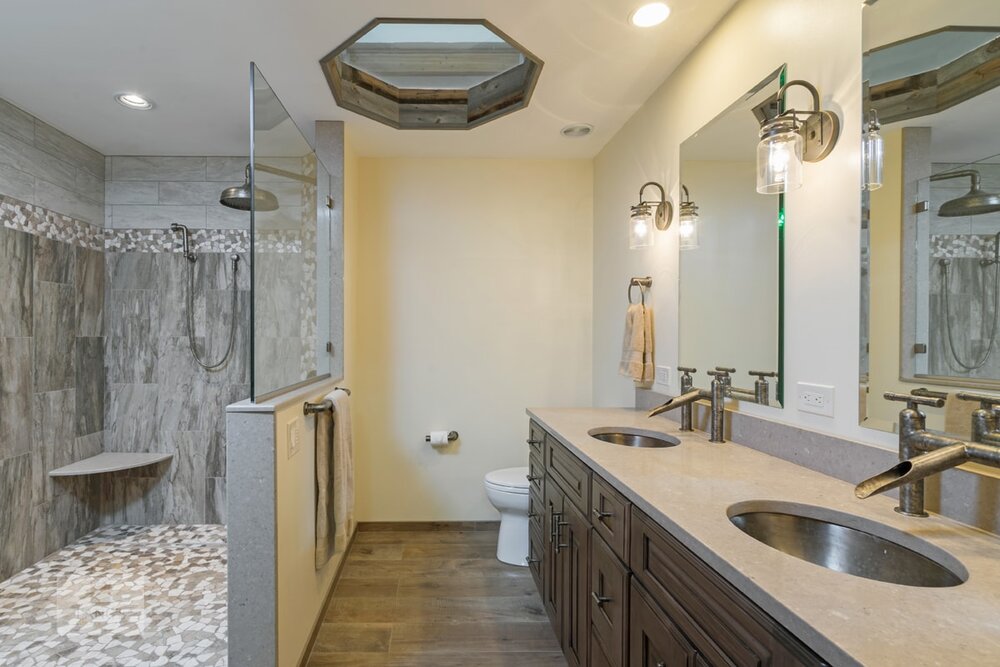 FLOORING
Factor in how slippery your flooring might be. Although marble looks beautiful it can be lethal when wet. Introduce textures with wooden floors, textured tiles, or mosaic tiles with wide grout lines for better grip. Rugs can get caught in wheelchairs or be a trip hazard, so be careful when including rugs or mats in a bathroom design. The best flooring style for a universal bathroom is a clutter-free one.
SINK AND VANITY
Floating vanities give an illusion of space to your design and some models can be suitable for wheelchair users. Make sure they are low enough to access or invest in auto-adjustable models, which are ideal for growing families. Single-lever or sensor faucets are stylish, conserve water and are perfect for children and anyone with mobility issues. Make sure the vanity is sturdy enough to lean on, mirrors are low enough and door and drawer pulls are large enough for everyone to use easily.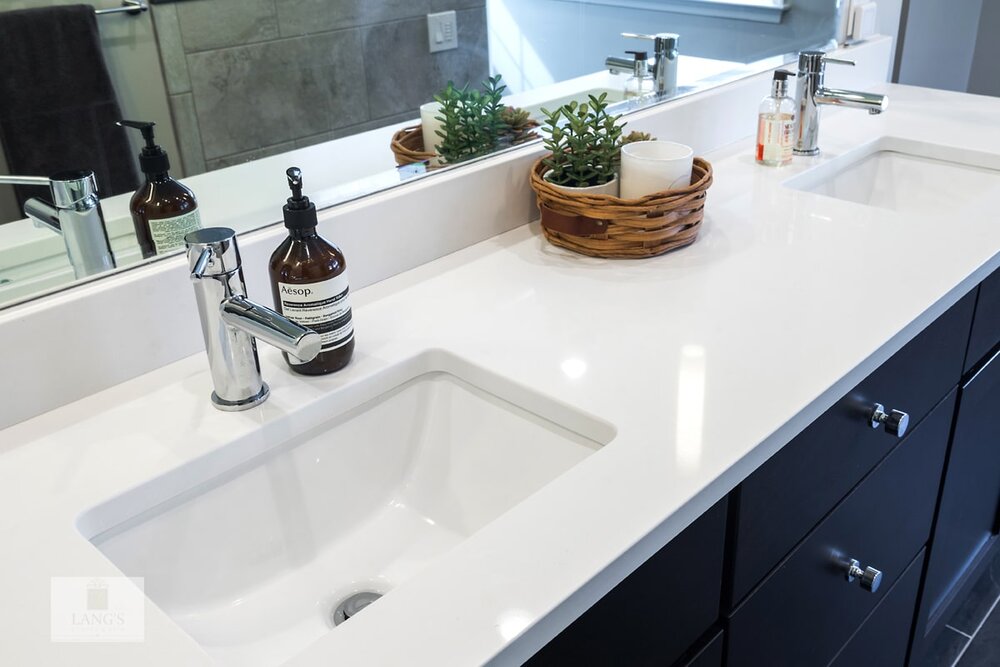 TOILETS
A universal bath design incorporates a lower sink but a higher toilet, preferably 16 inches tall so its easy to move on and off, especially with the aid of a grab bar. Wall hung toilets can be fitted at the height you want, and add-on seats or removable steps can be included to further aid access. Spray jets under the rim are a great idea for young and old alike but everyone still needs access to toilet paper, so keep it within easy reach.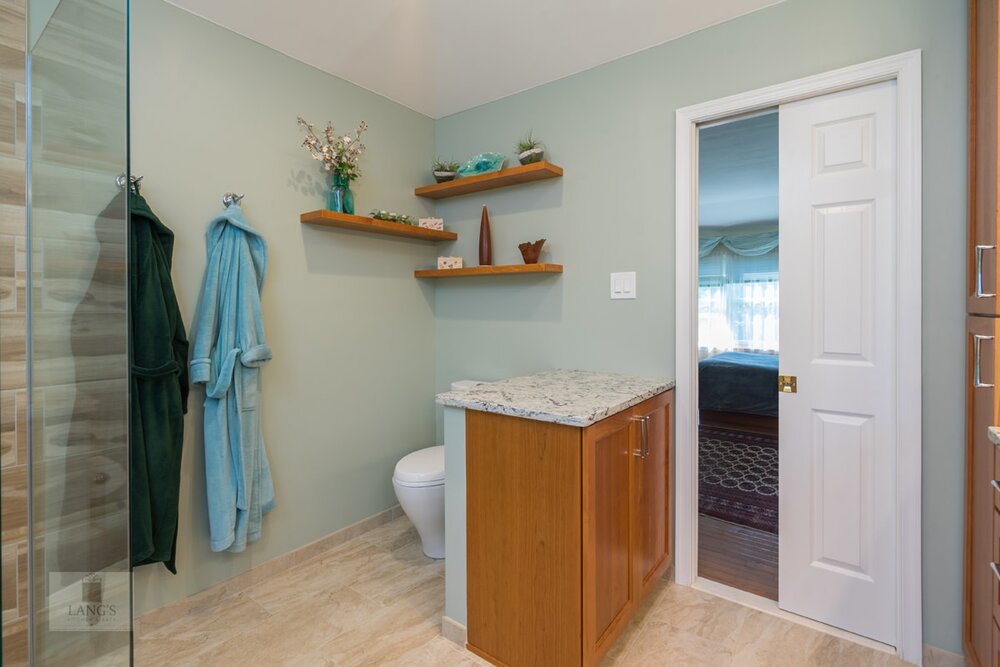 SHOWERS AND TUBS
Walk-in tubs with a watertight opening are an excellent option if youd like a bath without having to climb in and out. Curbless showers are a real design statement and mean anyone can move a wheelchair or walking aid in and out. Multiple shower heads are a luxurious but practical addition and adding anti-scald valves and long hoses mean family members of every age and size can enjoy a shower. Built-in benches are a handy place both to sit or keep showering essentials. Also ensure when designing storage niches that theyre low enough for everyone to reach.
STORAGE
Niche storage can also be handy in other areas around the bathroom, as it sits neatly in the wall and will not become a hazard to trip over or bang against like shelves or cabinets. Custom storage solutions are the ideal way to keep everything tidy yet accessible in a universal bath design to make sure everyone can access the toiletries, towels, laundry hampers, and everything required in the bathroom. Your design professional will work with you to ensure your storage options meet everyones needs.
Universal Bath Design makes so much sense. There are endless options available so that equipping your bathroom for the future doesnt mean you have to sacrifice style. Future-proofing your bathroom remodel with each life stage in mind also means you wont have to constantly adjust or upgrade your bath design. Explore our gallery for more bathroom remodeling inspiration and contact us today to discuss a universal bath design to transform your home.