The Best Baking Tools of 2019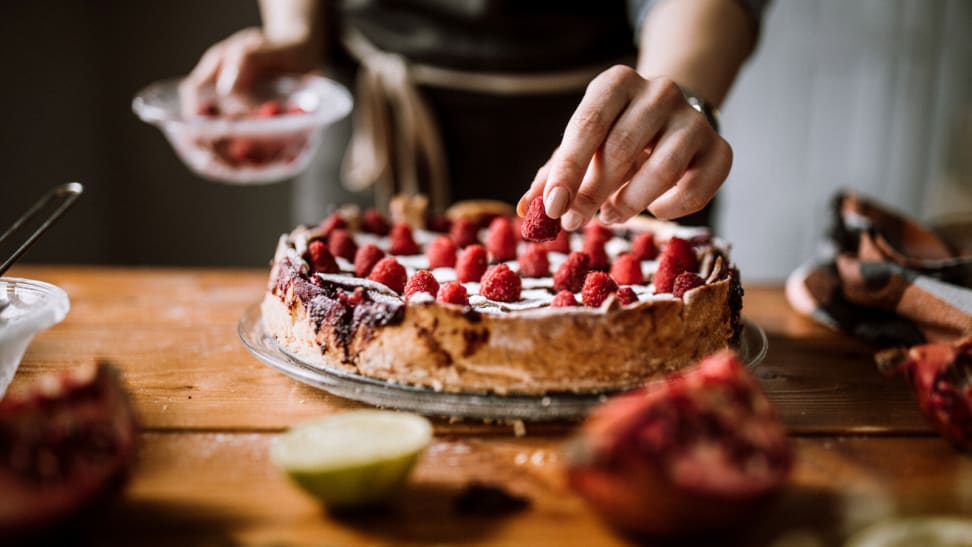 — Recommendations are independently chosen by Revieweds editors. Purchases you make through our links may earn us a commission.
Baking is an exact science, which means your results will only be as good as your tools and ingredients. If youre trying to perfect your pies and impress your friends with the finest cakes and cookies, youll need the best baking essentials to help you mix, measure, roll, whip, and flip your way there.
Some of our favorite tools, like the KitchenAid Artisan Stand Mixer (available at Amazon for $279.00), speak for themselves in terms of quality and performance in the kitchen. But investing in smaller tools like spatulas, measuring cups, and rolling pins can also help make the difference between okay bakes and fantastic bakes.
Here are the best baking tools weve tested at Reviewed.
Best Stand Mixer: KitchenAid Artisan 5-Quart Stand Mixer
Best Hand Mixer: Cuisinart Power Advantage Plus 9-Speed Hand Mixer
Best Mixing Bowls: Cuisinart Stainless Steel Mixing Bowls with Lids, Set of 3
Best Measuring Cups: Bellemain Stainless Steel Measuring Cup Set
Best Pie Dish: Emile Henry Modern Classics Pie Dish
Best Loaf Pan: Rachael Ray Yum-o! Oven Lovin' Loaf Pan
Best Rolling Pin: J.K. Adams Plain Maple Rolling Dowel
Best Baking Sheet: Nordic Ware Natural Aluminum Half Sheet
Best Cookie Sheet: AirBake Nonstick Cookie Sheet
Best Flat Spatula: Cutco Turn n Serve
Best Baking Spatula: Di Oro Seamless Spatula
Best Oven Thermometer: Admetior Oven Thermometer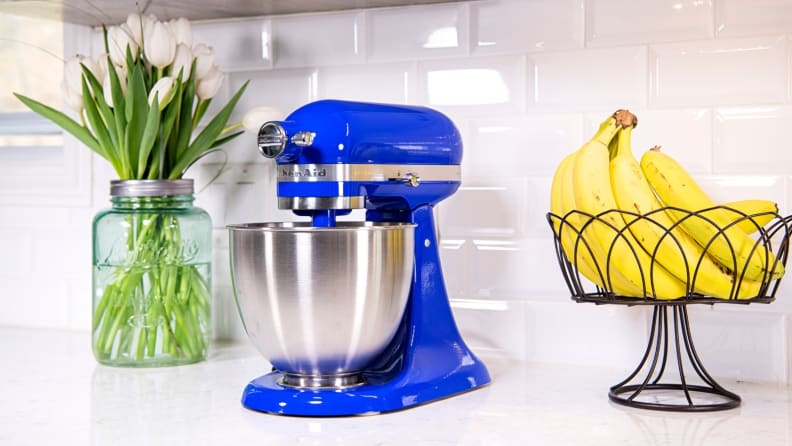 Best Stand Mixer
KitchenAid Artisan 5-Quart Stand Mixer
The Artisan is the quintessential stand mixer. Easy to set up and with the quietest motor we tested, the Artisan was a pleasure to use and passed through all our tests with aplomb. Despite its many competitors, our tests prove that it is still the best stand mixer you can buy.
Its merits are many: attachments were easy to put on, remove, and clean; the tilt lever lock worked well; the bowl installed smoothly; and the splash guard, though not really necessary (for this class of mixer, none of them are), fit the bowl well and could be slid on when needed without taking apart the mixer.
All this comes at a pricean MSRP of $429.99, to be exactalthough colors and sales may vary (we tested the red KSM150PSER). There are also a few features on competing mixers that we wish the Artisan had too. For instance, the speed lever on the Artisan is durable and effective, but not pleasant to use, with sharp edges and just enough resistance to make it easy to turn the mixer on faster than intended. The Artisan also doesnt have a lock for when the head of the mixer is in the up position a safety feature that would be nice.
Owners of KitchenAids consistently get great performance from their mixers for years, so though the price is high, an Artisan mixer is well worth the money.
Pros
Durable and reliable build

The motor is quiet

Attachments are easy to use
Cons
Expensive

Speed lever not pleasant to use
Best Hand Mixer
Cuisinart Power Advantage Plus
From whipping cream to kneading bread, you cant beat the Cuisinart Power Advantage Plus 9-Speed Hand Mixer with Storage Case. It simply didnt have any weak spots on any of our tests. We didnt have to stop and scrape the bowl when we were making sponge cake batter and when it came to cookie dough, it sailed right through, easily beating in oats and raisins thoroughly so we didnt have to do a quick mix with a spatula before forming cookies. The Cuisinart kneaded yeast dough into a smooth elastic ball as well as the human hand.
The on/off switch and speed controls are intuitive to use, and the mixer always starts off slowly, so you never get an initial spatter of flour in your face. Of all the hand mixers we tested, it has the most helpful manual, which even includes recipes you might actually want to make. The attachments are dishwasher safe and can be stored in the included case, snapped on the top of the mixer. The only drawback is that this is the noisiest model we worked with, although it is certainly nowhere near as loud as a blender or a hairdryer.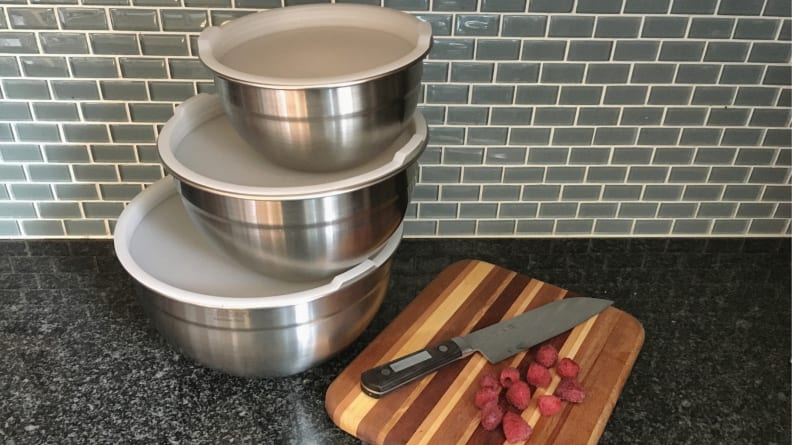 Best Mixing Bowls
Cuisinart Stainless Steel Mixing Bowls with Lids, Set of 3
If you ask us which we prefer (glass or stainless steel bowls), well say stainless every time. Theres nothing to shatter or chip, making them both durable and long lasting, and their lightweight profile makes them easy to use. While they shouldnt go into the microwave, they can be used on the stovetop as a double boilerand the small- and medium-sized bowls in the Cuisinart Stainless Steel Mixing Bowls with Lids worked perfectly for melting butter and chocolate over a 2-quart saucepan.
In addition, this set had nice, tall edges and a comfortable rim to hold onto while whisking. Each bowl was heavy enough to keep movement at a minimum (especially when we placed a towel underneath it) but light enough to hold in one hand while scraping out batter with the other. As a bonus, the bowls come with air-tight plastic lids, so each bowl doubles as storage and transportation container. Put all this together and it's easy to see why these bowls earned our top spot as the best stainless-steel mixing bowls.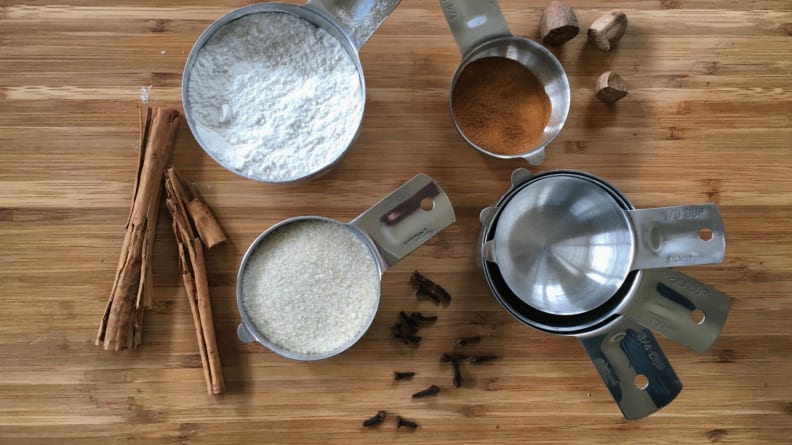 Best Dry Measuring Cups
Bellemain Stainless Steel Measuring Cup Set
The heavy-duty Bellemain Stainless Steel Measuring Cups aced all of our tests. With short (but functional) handles held together by an easy-to-remove chain, the cups scooped with ease and benefited from a low-storage profile. The etched-on measurements include both American cups and European milliliters (just in case you dont want to reach for that liquid measuring cup).
In addition to the common sizes (1 cup, 1/2 cup, 1/3 cup, 1/4 cup), the set includes a 2/3- and 3/4-cup for ease of measuring. They fit inside standard flour and oatmeal containers and they didnt bend easily when scooping brown sugar. These cups were the least expensive stainless cup option on our list but they out-performed all of the more expensive sets, making them a no-brainer for our top choice in the best dry measuring cups category.
See more of the best measuring cups and spoons we tested and reviewed.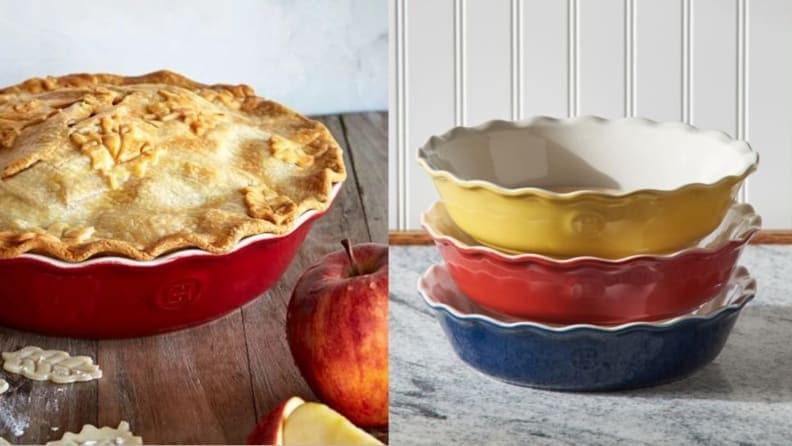 Best Pie Dish
Emile Henry Modern Classics Pie Dish
You cant beat the Emile Henry Pie Dish for looks or turning out a pie with a crispy, flaky crust. Its made in France of ceramic and comes in lots of pretty colors. While this 9-by-2 inch dish is deep enough to hold almost two quarts of filling, we didnt find our pies came out skimpy looking. Its large capacity and attractive appearance make it a good choice for baking and serving other items like scalloped potatoes or candied sweets.
As it can withstand high temperatures, you can run the Emile under the broiler if you want to brown off a lemon meringue pie or a mac and cheese casserole. Plus, its microwave and dishwasher safe. While its ruffled top adds to its appeal, it wont help you create a fluted edge. Keep in mind that ceramicware is heavy, so this might not be the right choice for carrying a pie to a potluck. And theres not much of a rim, so you need to grasp it firmly by the sides.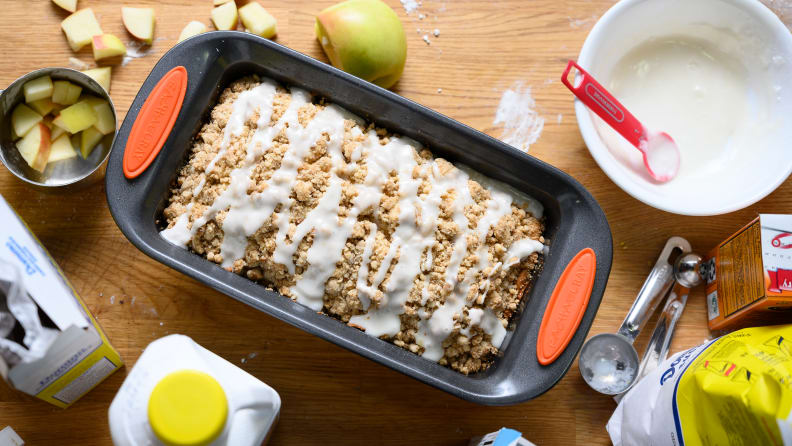 Best Loaf Pan
Rachael Ray Yum-o! Nonstick Oven Lovin' Loaf Pan
It has a silly name and it doesnt look like a professional tool, but when it came to results and ease of use, we liked everything about the Rachael Ray Yum-o! Oven Lovin' Loaf Pan for loaf baking. First of all, the handles are large and have silicone inserts in Rachaels signature orange color that make it super easy to get a firm grip on the pan.
The nonstick finish never faltered, even when we didnt grease the pan. And because the nonstick finish is dark, it gave a nice deep crust to white bread. The Rachael Ray is roomier than some of the others we tested, so meatloaf juices never bubbled over onto the oven floor. As its safe up to 500F, you can quickly brown off a crumb topping, if need be.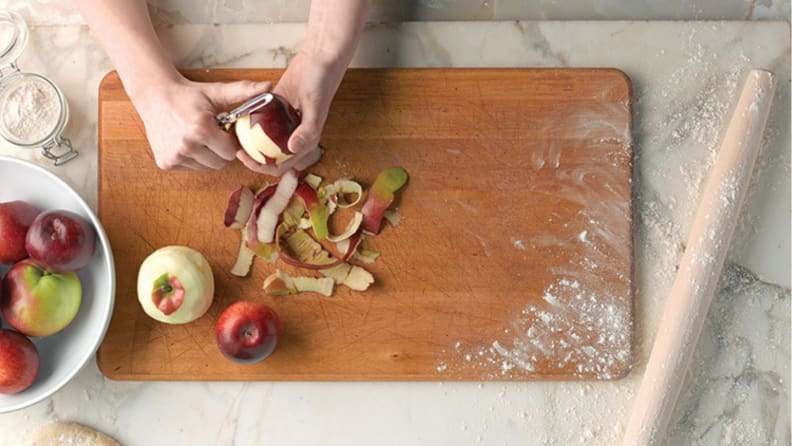 Best Rolling Pin
J.K. Adams Plain Maple Rolling Dowel
When they say theres beauty in simplicity, theyre talking about this wooden rolling pin. Its really just a sturdy wooden cylinder of a medium-heavy weight, nothing more, nothing less. But during testing, it rolled out perfect dough every time.
The simple design of this wooden pin, combined with its weight, makes it easy to control the amount of pressure you use based on what you need for your dough. For tough dough you can push a bit harder, and for soft dough you can keep a light touch. The long, cylindrical body and lack of handles also means that you'll never cut an edge through your dough the way you sometimes might with smaller, handled rolling pins. This translates to an even, non-lumpy dough that's easy to shape however you want.
To top it off, flour sticks to the pin just fine, which keeps dough from sticking while in use. The pin also cleans up easily. The only downside is that, depending on the size of your kitchen, it might be tough to put this beauty away. Its 19 inches of length simply make it harder to tuck into a drawer.
Best Baking Sheet
Nordic Ware Natural Aluminum Commercial Baker's Half Sheet
Theres a reason this American-made baking sheet tops charts around the internet. Its lightweight, large enough to fit more than a dozen cookies, and distributes heat like a dream. Measuring 12 by 17 inches, we're confident we can use it to cook enough vegetables for a small crowdor for myself with plenty of leftovers. Even covered with goodies, this tray is light enough to hold with one hand while you scoop whatever youre making onto a waiting plate.
My biggest concern was cleaning. While the pizza slid off easily, cookies and vegetables took a bit more work and left a bit of residue. However, everything heavy duty came off with a few minutes of soaking. Personally, Id use parchment paper or a Silpat mat under my cookies to ensure that nothing sticks.
Given the high-quality construction, if you take care of this panwash it by hand and dont even think about touching it with a metal spatula or forkthere's no reason why it shouldn't last for ages.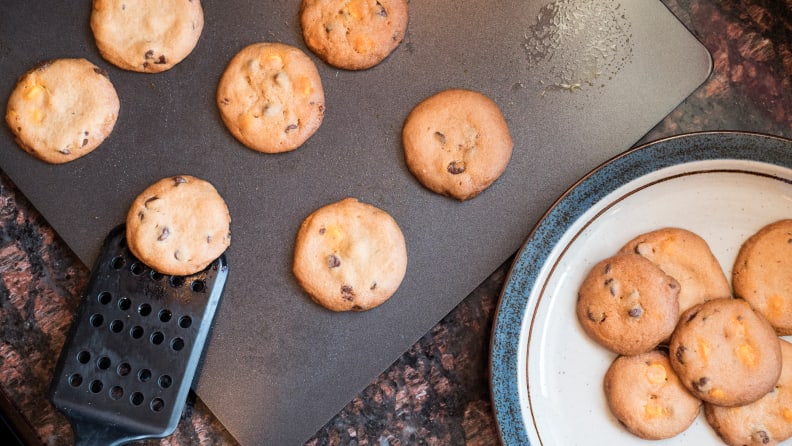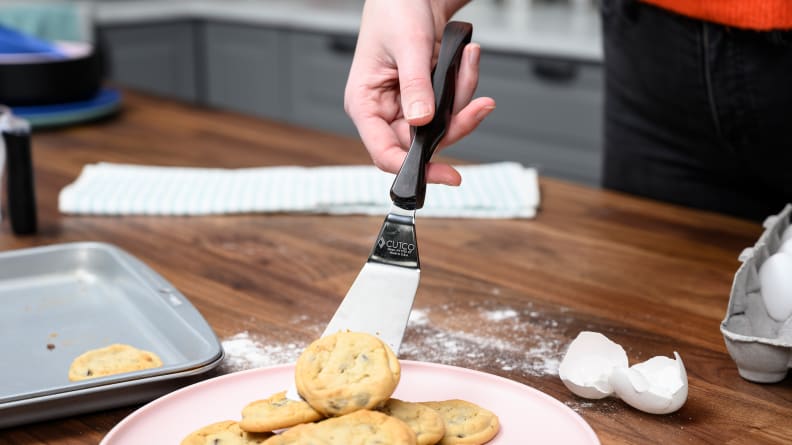 Best Flat Spatula
Cutco Turn n Serve
A flat cooking spatula is a kitchen stapleideal for removing cookies from a baking tray, flipping pancakes and eggs, and any other cooking task that requires slipping under food to move it around. And the Cutco Turn n Serve flat cooking spatula takes the cake. (No seriously, we used it to move a cake and it worked great.) Its more expensive than we would typically recommend for a spatula, but this is a you get what you pay for situation. Its pricey, but comes with a lifetime guarantee and will never send you back to your utensil drawer looking for a better tool.
This spatula performed incredibly well on all of our tests. The flat head is thin enough to easily slide under delicate eggs and tofu, but sturdy enough to flip burgers and lift a cake from a cake turner onto a serving plate. Its a good size as well. It hits the sweet spot between being narrow enough to fit into your brownie pan and lift out a piece, and wide enough to be useful for flipping pancakes and removing cookies from your baking tray.
The only downside we found with this spatula is that its metal. And while this allows it to be as thin as a delicate fish spatula, it cannot be used on a nonstick pan. So if you only use nonstick cookware, you will have to opt for a silicone tool.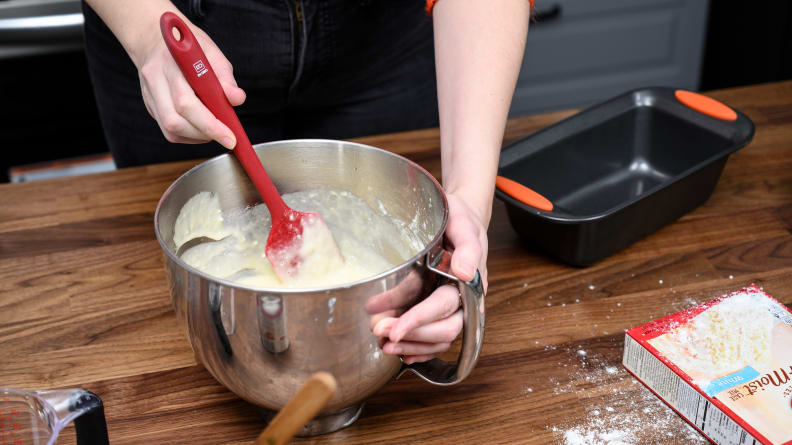 Best Baking Spatula
Di Oro Seamless Spatula
Everyone needs a silicone baking spatula, and the Di Oro Large Silicone Spatula is an excellent choice for folding flour into your batter and then scraping down the sides of your bowl. Its a single, slick piece of silicone, so you dont need to worry about the head snapping off. The handle is sturdy and solid, while the head is just flexible enough to scrape down tricky-to-reach areas of your bowl.
The one-side-curved, one-side-straight head of this spatula makes it excellent for reaching into different types of corners (for instance, when scraping dough from a round bowl or when smoothing brownie batter into a square tin). As well, the medium/large spatula head means you can get the job done quickly and easily. Overall, this spatula worked wonderfully through all our tests.
See more of the best baking spatulas we tested and reviewed.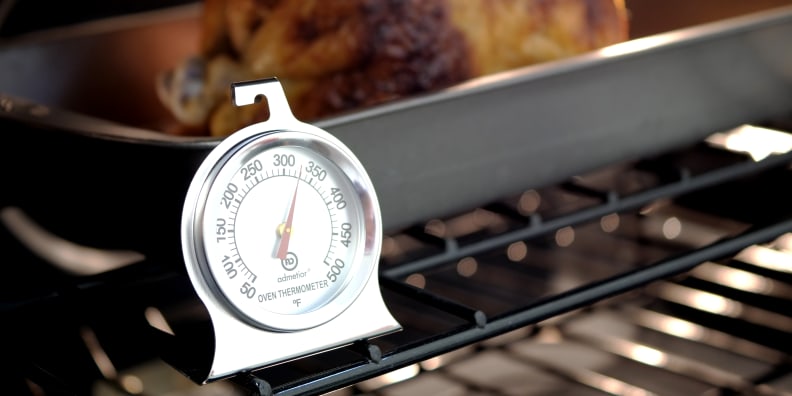 Best Oven Thermometer
Admetior Oven Thermometer
This is an efficient, straight-forward thermometer that meets right at the intersection of great functionality and visual appeal. The no-frills model reported temperatures with great accuracy and responded quickly to any changes in heat. A temperature gauge that starts at 50 F ensures that you can see the needle move even at room temperature. It's effortless to hang on the oven rack, and although the face is small, it's easy to read thanks to clear, bold print and distinct tick marks.
See more of the best oven thermometers we tested and reviewed.
---
More Articles You Might Enjoy