Oh boy! Its the annual Elfa sale!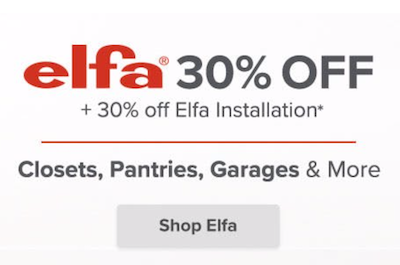 Im a big fan of the Container Store staff here in St. Louis does an amazing job of helping me help my clients using their products. Not only are they incredibly helpful, their products are of high quality. I am so grateful that we have a Container Store here in St. Louis.
The Container Stores Elfa system is often my go-to for creating relatively inexpensive customized storage solutions. Right now its even more affordable because all Elfa is on sale for 30% off!
Here are some of my favorite Elfa solutions:
The Container Store offers installation for their larger wall-mounted systems and installation is also 30% off during this sale, which usually runs until about Valentines Day. If youre tempted by an Elfa closet, nows the time to check it out. If you have a store near you, just bring in your measurements and theyll offer you free design services. If youre not near a store you can use their online design tool.