Home Depot and Safavieh Recall Dressers After They Failed Government Tests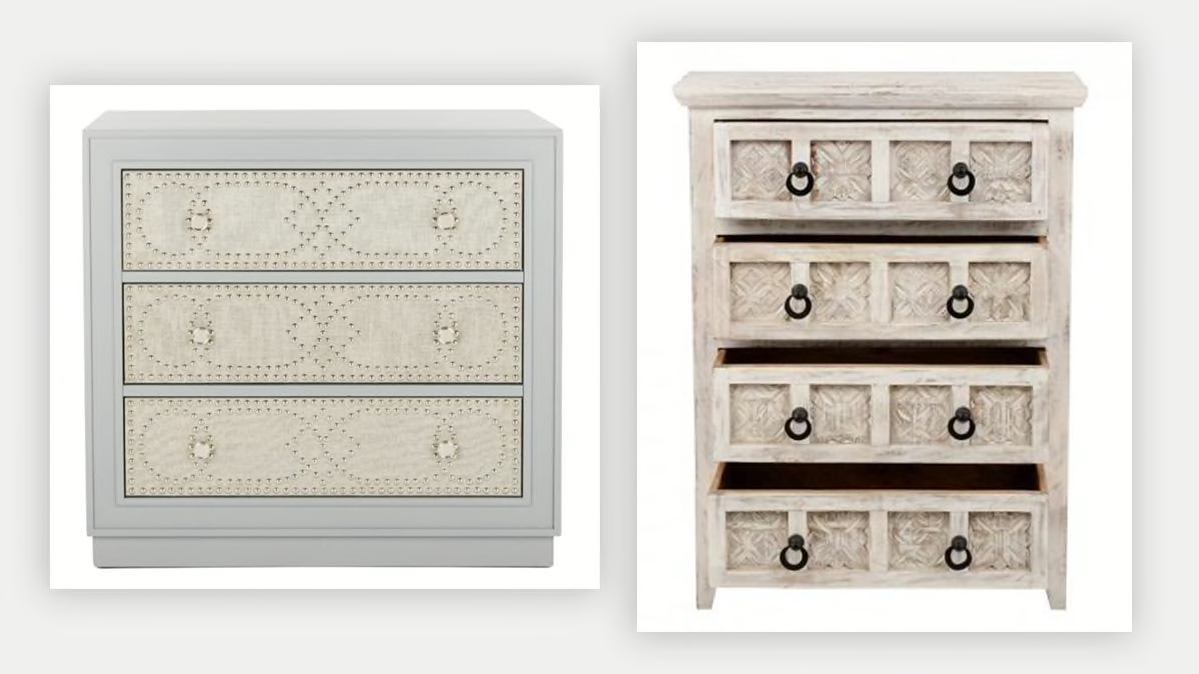 Consumer Reports has no financial relationship with advertisers on this site.
Two companies recalled dresser models today after the products failed stability testing conducted by the Consumer Product Safety Commission. This marks the seventh and eight dresser recalls since May 2019.
Furniture and home goods manufacturer Safavieh recalled about 760 dressers, according to the CPSC announcement. The three recalled Safavieh models come in a light gray linen finish with light gray drawers (model CHS6410B), a mirror finish with champagne drawers (model CHS6403A), and a mirror finish with steel teal drawers (model CHS6403C). Each chest is about 32 inches wide, 16 inches deep and 29 inches tall. The dressers were sold at Wayfair, Overstock.com, Gilt, and other online retailers from November 2017 to November 2019.
Home Depot recalled about 200 dressers,all involving the Home Decorators Collection Print Block 4-Drawer Whitewash Chest (model HDC-14012), according to a separate CPSC announcement. The products, which are about 44 inches tall and weigh about 96 pounds, are made from mango wood with a distressed finish, and were sold between May 2015 and December 2019. A label on the back of each chest lists the manufacturer, Country Art & Craft LLP, and date of production.
All of the recalled dressers are unstable if not anchored to the wall and pose a serious tip-over and entrapment hazard that can cause injuries or death.
There are no reported incidents associated with either of the recalled dressers. But the risk of harm is real: One person is injured about every 15 minutesand one child dies every two weekswhen a piece of furniture or a television falls onto them,according to the CPSC. Each year, thousands of those incidents involve dressers.
Consumers should immediately stop using the recalled dressers and place them in a room children cant access.
If you own a recalled Safavieh dresser, contact the company by phone at 866-422-9070, email at cs@Safavieh.com, or reach them through thecompanys website. Safavieh will provide packaging and prepaid shipping labels so consumers can remove the chests metal drawer slides and return them to the company for a full refund. This requires using a screwdriver to detach the strips.
Nancy Cowles, executive director of Kids In Danger, a consumer safety organization, says that even after consumers send in the drawer slides to receive the refund, you still need to get rid of the chest so it doesnt continue to pose a danger. She suggests further taking the dresser apart and putting it in a dumpster so no one can use it or climb on it. She believes a better response from the company would have been to pick up the dressers free of charge.
If you own a recalled Home Depot dresser, contact the company at 800-466-3337 or on the website. Home Depot will pick up the dresser for free in exchange for a full refund.
Why Dressers Keep Getting Recalled
The CPSC put more than 150 models of dressers and other clothing storage units through a series of tests to see whether they complied with the industrys voluntary stability standard, with the aim of getting unsafe dressers off the market. The recently recalled dressers did not pass those tests.
In 2018, Consumer Reports also tested a number of dresser models and found that many failed the organizations tests, which were modeled after the industrys voluntary standard. That standard requires that the dresser stays upright when put through basic stability testing, which involves hanging a 50-pound weight on a single open drawer while the others are closed.
The spate of dresser recalls indicates that the CPSC is following through with its goal to remove unstable dressers from peoples homes and the marketplace. It gives me hope that the CPSC is taking action on the dressers that failed testing, and its good theyre not waiting for somebody to get hurt or killed by a dresser tip-over before issuing recalls, says Kimberly Amato, of Sterling, Mass., whose 3-year-old daughter Meghan died in 2004 when the dresser in her room fell on top of her.
But Amato too is concerned about Safaviehs recall solution and worries that risky dressers will remain in peoples homes on account of it. "I question why they wouldnt just remove the dresser, she says. It seems like an awful lot of work for the consumer to have to remove the drawer slides and send them back. My worry is that people arent going to go to the effort.
On the other hand, Amato, who is a founding member of Parents Against Tip-Overs, a consumer advocacy group comprising parents whose children have died in a tip-over incident, thinks this latest recall will bring needed attention to the fact that it's not only ready-to-assemble Ikea furniturewhich has received a lot of media attentionthat can be unstable and tip-over. Many manufacturers make unstable dressers of different sizes and at all different price points, she says. She notes that the dresser that killed her daughter was expensive, made of solid maple, was a mere 30 inches tall, and sold by a small manufacturer as part of a nursery furniture set. Until the dresser tipped over, Amato never imagined it could pose a danger to her family.
Indeed, CRs testing has found its nearly impossible to tell which dressers are safe simply by looking at them or checking their cost. To address the problem, the House of Representatives recently passed the Stop Tip-Overs of Unstable, Risky Dressers on Youth (STURDY) Act, which would require the CPSC to create a mandatory federal rule for dressers that is tougher than the industrys current voluntary standard. The bill is awaiting a vote in the Senate.
Members of PAT and other consumer advocates hope the STURDY Act passes quickly. The STURDY Act is so important because we need a more robust mandatory standard for dressers, Amato says. It shouldnt be on the consumer to find out they have an unsafe dresser after the fact through a recall announcement, or heaven forbid after its fallen and injured or killed somebody.
Consumer Reports is an independent, nonprofit organization that works side by side with consumers to create a fairer, safer, and healthier world. CR does not endorse products or services, and does not accept advertising. Copyright 2020, Consumer Reports, Inc.