17 Insanely Clever Drawer Organizers We Cant Believe Weve Been Living Without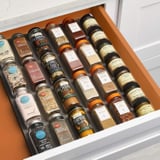 We all have one: an overflowing junk drawer that desperately needs reorganizing. In 2020 one of my goals is to not only clean mine out, but the rest of the drawers in my house from my dresser to my kitchen. It's not always easy finding a new organization method, that's why the help of useful tools is a total must. I went on a mission to find the best options out there and decided to turn to Amazon. Not only does the site carries thousands of options, but they're shipped fast right to your doorstep.
Ahead, you can shop my 17 favorite finds so genius, I'm tempted to buy them all. From an organizer for your spices to a cool space-saving cutlery tray, there's no doubt they will blow you away. Once you start getting things in order, you won't be able to stop. So what are you waiting for? Keep reading to shop them all.
Related: 14 Genius Storage Solutions I'm Using to Reorganize My Tiny Kitchen in 2020